Thank you! I look forward to welcoming you to the Rise Up event!
Check your inbox and wait for the email I'm sending you with the location details.
We know you're a busy guy, but we want to give you info on our latest event featuring infield coaching on the streets of Singapore. It's called Unleashed that helps give you this "one thing" that women are looking for in a man. Make sure you ask the coaches about it during the Rise Up event. Thanks again!
Make sure your sound is turned on…
What Do Women in Singapore Really Want in a Man?
WATCH THE ENTIRE VIDEO to solve the mystery and learn the secret… and watch your social life change forever! (If the video doesn't play in your browser, use a different browser or update to the latest version of Adobe Flash Player.)
[wp_eStore_buy_now_button id=7]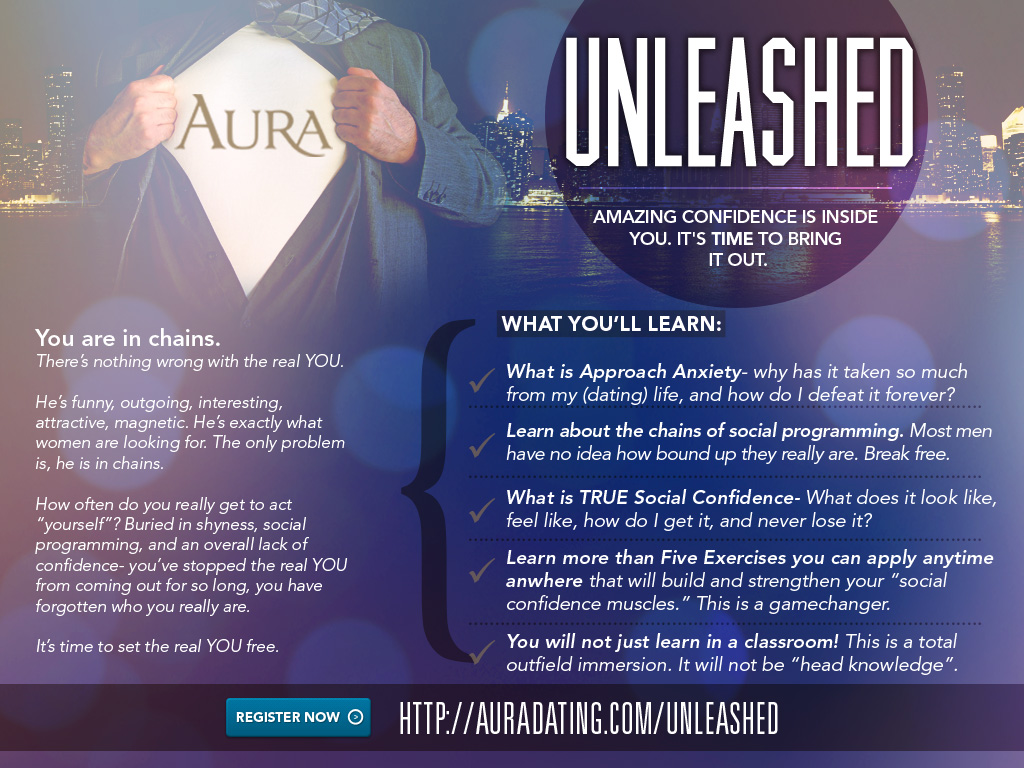 UNLEASHED is a very small class. It is limited to a few people to keep the student:instructor ratio low. Reserve your Seat now to avoid getting bumped to a different calendar date.
[wp_eStore_buy_now_button id=7]
[zilla_one_half]
Do you know what every Woman in Singapore is looking for?
It doesn't matter what her "personality type is"…
…and yes, of course, every woman is different. But this is where they are the same. They are looking for a man with Social Confidence. In fact, I'd go as far as saying that you can probably trace 99% of your frustrations with women, dating, and romance to a lack in Social Confidence. Don't believe me?
Then why do you fidget when in the presence of an attractive woman?
Or stutter? And why does your mind go blank? Why are these thousands of involuntary nervous mannerisms triggered whenever you are face-to-face with a woman you find incredibly beautiful? In fact it's not just with women. It's with anyone–even guys–who you feel are too intimidating or dominant, or might be someone you want to impress. This is what happens when you lack Social Confidence.
And it's not as invisible as you think. There are millions of things going on in any given social interaction that you're not even aware of–a hundred small but important events indicating who has nervous body language and who is truly confident–and just like the food chain in the animal world, people know who's on top. Let's cut to the chase: Women are all about this intuitive inner conversation.
"There's nothing mysterious about the "X" Factor"
It all comes down to Social Confidence. In UNLEASHED, we dive quickly into the principles of Social Confidence, and then get down to the real work: PUTTING IT INTO PRACTICE and CREATING IT IN YOU. We go out in public places and do live exercises that show you exactly what's what.
Many students say it's a "REVELATION" that we are able to pinpoint exactly what it is in them that's holding them back and solve their problems with such precision. It is a challenging, heart-pumping adrenaline rush of an experience, which when you're done with, will never leave you the same. Then I'll teach you how to do it all on your own, whenever you want.
[/zilla_one_half]
[zilla_one_half_last]
You cannot learn this in a Classroom…
Do you think this is a lecture? Not a chance. It is our OUTFIELD class, which means we're going out onto the streets of Singapore to meet real women. And we've packed it with more value than ever before!
We begin with a quick "Pre-flight" briefing. This is where you will learn principles about Social Confidence that you've never heard before. These are things that will help you dramatically with women, without "applying" any technique or skill. It also dramatically revolutionises your other interpersonal skills.
Then we hit the streets. We have created a set of exercises that bring what we've taught from your brain down to where it matters most. This is where most guys get the "Aha!" moment, where the truth finally clicks, and they are able to confront facts about themselves and truly transform. When the exercises are over, every single participant is completely EXHILARATED. You feel liberated and like a version of yourself you've never witnessed before. You will have gotten in touch with your true self.
Then there's the debriefing. The energy in the room is amazing. Men are sharing their experiences and what they've learned. This debriefing session is critical because the Coaches now apply everything to your dating and social life. We'll take all this momentum and demolish roadblocks when it comes to approaching attractive women, talking to them, asking them out, being yourself around them, understanding the dynamics of value and who's giving what to whom. There's so much more…
[zilla_alert style="grey"] And as an amazing BONUS that I've never given before, I leave you with a ROADMAP for further learning and practice, and an amazing, free, take-home gift filled with even more exclusive resources only available to attendees of UNLEASHED.[/zilla_alert]
[/zilla_one_half_last]
Logistics
UNLEASHED only happens on Sundays, 2:00-5:00 PM
Place: Downtown Singapore. The exact location will be sent to registered participants.
Average Class Size: Seven attendees (led by David Tian, Ph.D., and three coaches)
Booking now will reserve your slot for the next event, unless you specify otherwise.
View our Events Calendar for more information.
Reserve now! Click the Button Below!
[wp_eStore_buy_now_button id=7]
–